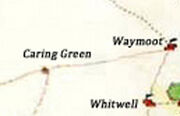 Whitwell
was a village in the
Shire
near
Tuckborough
.It was a small stopping place with good wells. Taken over by the Tooks abozt TA 1620, Whitwell gained notoriety when its residents started charging tolls and actually held a
King
's Messenger who refused to pay. A lecture and a stiff fine settled that issue, but
Tooks
, since that time , were not welcome at
Iach Sarn
.
Paladin Took
owned farm lands in Whitwell.
Places of Note
The Brook
Brookbank Street
Chalk Road
Escrow Broker Mary Boffin
Harrow Road
Head Caretaker Aster Bracegirdle
Healer Hasculf Goodbody
Housing Furnisher Rolf Bracegirdle
Milestone
Myrtle Court
Pleasant Street
Supplier & Provisioner Talebot Took
Wending Way
Inhabitants
About 3018: Aster Bracegirdle Bando Wendingway Basil Goodbody Belgo Brockhouse Hasculf Goodbody Iris Goodbody Mary Boffin Mungo Boffin Rolf Bracegirdle Talebot Took
References
MERP:the Shire
Foster, Robert. The Complete Guide to Middle-earth.
Ad blocker interference detected!
Wikia is a free-to-use site that makes money from advertising. We have a modified experience for viewers using ad blockers

Wikia is not accessible if you've made further modifications. Remove the custom ad blocker rule(s) and the page will load as expected.