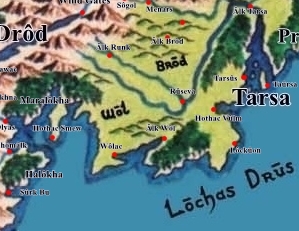 Wôl was the southernmost of the Shelf-lands situated east of the Mountains of the Wind. Its original Wolîm inhabitants spoke a Pukael-related tongue.Long an important administrative region, Wôl sent many colonists and immigrants to the island of Wâw. By the 15th-century TA, Wôl had become colonized in turn, as Wâw became a great power in its own right. Wôl and Wâw were almost synonymous in the chronicles of their rivals and foes in the post-Lôkhan period.
Places of Note
Âlk Tarsa Âlk Wôl Hothac Smew Hothac Vûlm Lôkhûon Rûseva Tarsûs Taûrsa Wôlac
References
the Wild Lands south and East, Gazetteer by Pete Fenlon
Ad blocker interference detected!
Wikia is a free-to-use site that makes money from advertising. We have a modified experience for viewers using ad blockers

Wikia is not accessible if you've made further modifications. Remove the custom ad blocker rule(s) and the page will load as expected.