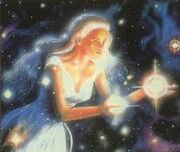 Elbereth Gilthoniel is the Queen of Arda and wife to Manwe.She is the highest Valie and the queen of stars.
Appearance
Realm
Light, stars, light of Arda, hearing, insight.
Personality
Servants
Cults
Names
Airë Tári
Avrâdi and Gimilnitîr (Adûnaic)
Baradis (Teleri)
Barathî
Barenda (Dorwinion)
Bradil
Bredhil or Berethil (Noldor)
Bozisha (Ap."the Goddess") or Ladnoca (Haradwaith)
Bridhil
Elberil
Elen-barathî
Elenala (Utter South)
Elentári and Tintalle (Quenya)
Elmbereth
Fanuilos
Gailbridhnir
Gilbrennil
Gilbridhnir
Gilthoniel (Sindarin)
Gimilnitîr (Adûnaic)
The Kindler
Lady of the Stars
Queen of the Stars
Snow-white
Súlimi
Sûzush (Drûghu)
Tar-Ellion
Tári
Timbridhil or Timbredhil
Timfiril
Timrithil
Tintallë
Tintanie
Tinwerontar
Tinwetári
Tinwevarda
Tinwevarni
Tinthurwin
Urdur (Northmen)
Valthea (Hwendi)
Varda (High-Elves)
Varsi
Artifacts
Cauldrons of Varda
Circlet
Ring
Staff of Varda
Torch of Stars
Powers
References
Lords of Middle-earth Vol I: The Immortals
Ad blocker interference detected!
Wikia is a free-to-use site that makes money from advertising. We have a modified experience for viewers using ad blockers

Wikia is not accessible if you've made further modifications. Remove the custom ad blocker rule(s) and the page will load as expected.