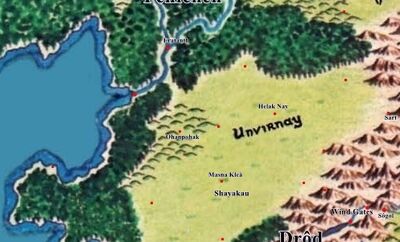 Unvirnay (sh."Tribal Area of the Nay") lay in southeastern Middle-earth. A rich plain of tall grasses covered most of the area, which was situated east of the Shay Bight, west of the Orosúli, and north of Shay. Like Shay, its western reaches were well-forested. It was also the home of the Nay, a Shayan-speaking people; however, the Nay were more given to herding, logging, and trading than they were to farming.
Places of Note
Helak Nay Masna Kleä Ohanpohak Sart Teusilla
Regions
Foothills of Unvirnay Western Forest
References
the Wild Lands south and East, Gazetteer by Pete Fenlon
Ad blocker interference detected!
Wikia is a free-to-use site that makes money from advertising. We have a modified experience for viewers using ad blockers

Wikia is not accessible if you've made further modifications. Remove the custom ad blocker rule(s) and the page will load as expected.