Uiven (Av."Uiwingê", "Everlasting Foam") was a collection of six (and numerous lesser) large islands located in the Romenëar. They stretched about 400 miles north and 200 miles east of Móak, the easternmost point on the Endorean mainland. They guarded the eastern channels into the Wômaw Sea. Originally an Avari-Realm, later Wômarin-speaking fishermen, the Ruulurk, resided throughout the cold, windy area.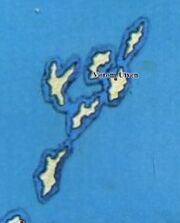 Inhabitants
Hildor:
Quendi:
Sources
the Wild Lands south and East, Gazetteer by Pete Fenlon
Ad blocker interference detected!
Wikia is a free-to-use site that makes money from advertising. We have a modified experience for viewers using ad blockers

Wikia is not accessible if you've made further modifications. Remove the custom ad blocker rule(s) and the page will load as expected.