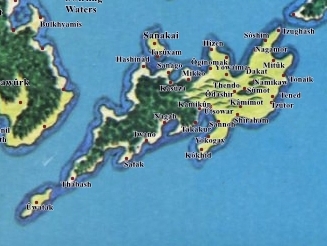 The largest island off the coast of Middle-earth, Thuriac Codya (D.S. "Home of the Holy Sky") or Thruiac was the ancient home of the Surk People.
Places of Note
Iwanôio Izutôri Kâmimoto Kôkhidô Mîkko Nagabe Nagamôri Mitûku Ôginômaki Sanago Sanakai Sannohê Shîrahâma Sôshima Takakûra Taneda Taruiama Ûtsowara
References
the Wild Lands south and East, Gazetteer by Pete Fenlon
Ad blocker interference detected!
Wikia is a free-to-use site that makes money from advertising. We have a modified experience for viewers using ad blockers

Wikia is not accessible if you've made further modifications. Remove the custom ad blocker rule(s) and the page will load as expected.