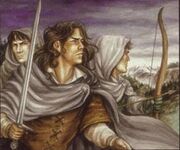 Also known as the "Gol a Toronath Forferyth" or "Feryth Formen", the
Rangers
(or "Grey-hillers" in
Saralainn
and
Enedhwaith
) were an armed company, skilled to fight in the wilds, among the
Dúnedain of the North
. Their tribe was recruited among the last decendants of the Dúnedain of Arnor.
Known members of the Dúnedain of the North and their Rangers
Amdir Arador Aragorn Aranhir Arathorn Aravir Argirion Arithir Astelni Baranor Beretar Bregadil Caldanath Calenglad Candaith Dalaneth Dalanor Dirhaborn Dirhael Dolbarad Dunhir Elboron Elegost Elladrien Encalion Eradan Fanuira Gilbarad Gilmith Gilraen Golodir Hador Halbarad Halbaron Haldalam Haldorn Halros Ilthorn Lenglinn Lothrandir Malvegil Meneldir Mindambeth Mordalin Nidgyl Pelisor Radanir Saeradan Yorath
Known Settlements and Camps
Ad blocker interference detected!
Wikia is a free-to-use site that makes money from advertising. We have a modified experience for viewers using ad blockers

Wikia is not accessible if you've made further modifications. Remove the custom ad blocker rule(s) and the page will load as expected.