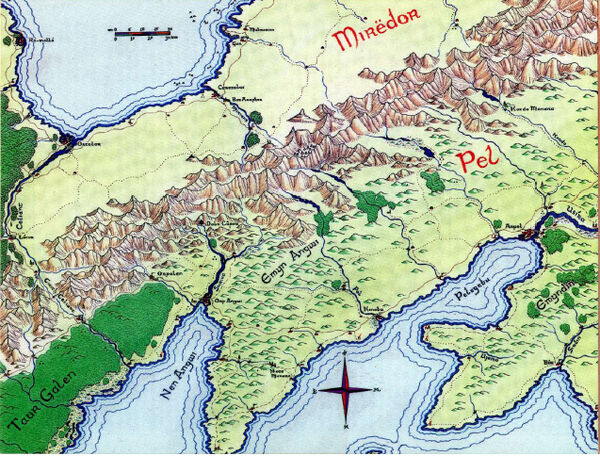 Pel
was located south of the western part of the
Yellow Mountains
-east of
Drel
-in southwesternmost
Endor
. Like
Drel
,
Pel
was located near the great cape called
Metharn
(
Hyarnúmente
). The
Haragaer
formed its southern boundary. A warm, humid land, it contained the forests of
Tathom
and
Taur Galen
. The region had been named for the four
Apysan
tribes that occupied the area.
Regions
Green Forest Hills of Wum Metharn Nen Angwi Pel Bight Pelegebu Snakehills Tathom Upper Pel Usira Vale
Places of Note
Arpel Bûa Dolu Cûpam Hiota Menere Kinebu Kondi Manara Naragul Orp Angwi Orpelen Seregul Keep Silverbridge Pass Three Sisters
References
the Wild Lands south and East, Gazetteer by Pete Fenlon
Ad blocker interference detected!
Wikia is a free-to-use site that makes money from advertising. We have a modified experience for viewers using ad blockers

Wikia is not accessible if you've made further modifications. Remove the custom ad blocker rule(s) and the page will load as expected.