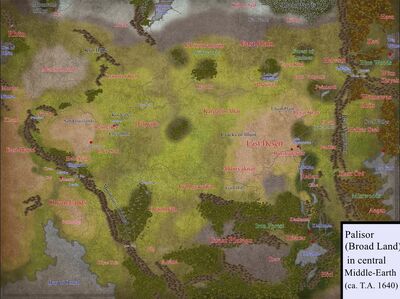 Palisor (Primitive Quenya:"Flat Land") or The Great Plain was an ancient term for the vast Lands of central Middle-Earth.Palisor encompassed the far Lands between the Great Greenwood in the west and the Orocarni in the east and included the vast Inland Sea of Helcar, the Mountains of the Wind with the Land Hildorien and the Murmenalda and the Lands of Cuivienen.
In the second and third Age most knowledge about eastern Middle-earth was lost and when Gondor conquered the lands surrounding the Rhûnaer they were astonished by the beauty of the Sea of Flowers in the east, why they called the unknown lands east of the Rhûnaer Menelothriand.
Palisor was believed to have been the birthplace of Elves and Men (and probably Hobbits) and the place of the Awakening of the four eastern Dwarf-Tribes.It was still inhabited by the various Easterling peoples, Orcs, Trolls and scattered remnants of Dwarves, Avari and Giants.
Lands and Realms
Acaana Aeareryn Aldhad Arkensûhn Black Mountains Bleak Mountains Darmal Chey Sart Dalpygis Desdursyton Dhath Durvîd Mountains Elthrakh Forest Road Gaathgykarkan Gap of the Stone Giants Heb Araan Helcarth Ibav Ibav Route Idûrak Imaldawath Iskahú Jagged Ridge Jemna Jendiar Kargagis Ahar Kubor sed Kykurian Kyn Langurian Kyn Lotan Lurs Vorganis Lygar Kraw Manka Mastoria Myr Nejhe Nekakhtar Nûrad Orgothraath Parched Plains Pontym Road Relmether Rycolis Tem-dazram Tem-eska Tharsitaur Thûrlornar Treddas Mountains Ubain ûl-daldaz Mountains Ulshy Vaag Waarwugan Y-lusturangsur
Characters
Ainur:Alatar Andraax Fankil Kaishnalai Kól Mourmaelgax Pallando Rakodsaol Tuilerwen Ûpo
Dwarves:Orn
Elves:Aluap Ardanien Arxdukanga Dardarian Darien Jirdfos Mormiresul Morwe Nuin Nurwe Tareg Tiliwini Tû
Men: Alafar Mem Amdûr Arpa Reluka Atakul Sey Avas I Avas II Avas III Borthand II Brudhan D'Breh M'loy Din Ohtar Eona Eridor Gergeli Gizik Gour Ito Ida Karyn Jardan Katajan Keeta-Skog Khârsh Khoragan Khurtan Kraez Mareke Mirag Namu the Rain-man Nandar Onree Oraishapek Parnelien Sey Príclís Raesha Ren the Unclean Romendacil I Romendacil II Sen Kay Strider Tyoh Ulgarin Uma Kalcuna Uvatha the Horseman Vacros Vizona Xaradra Zamîkh
Orcs:
Trolls:
Other:
settlements and Points of interest
Angsars-Morthrog Argalas Arjaf Azagharbûn Burskadekdar Barad Aelifuin Delik Kizil Endon Gamil-Nâla great riverway Jayir Ahar Kandhil Medlóshad Mithrisars Modhaya Namagalûz Naragûl Nunahar Savage Breaks Skad Thraath Uztarûrzahar Xáat'l
Ad blocker interference detected!
Wikia is a free-to-use site that makes money from advertising. We have a modified experience for viewers using ad blockers

Wikia is not accessible if you've made further modifications. Remove the custom ad blocker rule(s) and the page will load as expected.