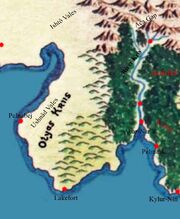 Olyas Kriis
(D.S."Golden Words") was a semi-arid peninsula located west of the southern reaches of the
Ered Harmal
. It stretched south from the
Endor
mainland, about two hundred miles out into the
Bay of Ormal
. Dry hills dominated it's central and southern quarters, while forests lay along it's eastern edge. The river
Kriis
formed it's eastern border.
Settlements
Aelinost Anarikê Jorash Kandalar Pelnates Târik an-Bawîba
Sources
the Wild Lands south and East, Gazetteer by Pete Fenlon
Ad blocker interference detected!
Wikia is a free-to-use site that makes money from advertising. We have a modified experience for viewers using ad blockers

Wikia is not accessible if you've made further modifications. Remove the custom ad blocker rule(s) and the page will load as expected.