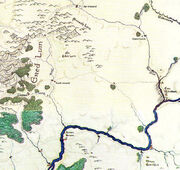 Arthedain
's Southern March, also known as
Harvaneth
or the older
Taur Nomdor
(Q."Oakwood-Realm") was a region of
Siragale
that comprised lands lying on the north bank of the
Baranduin
and west of the
Fox Downs
. This was
Siranna
country, for the most part , but dotted by
Sinda
glades and retreats.
Eriadoran
trappers
and
traders
given leave by the
Elves
visited the March, generally where river access could be had from
Girithlin
.
Smugglers
and
bandits
turned up in the Southern March as well, risking the wrath of the Elves to avoid the justice of
Men
. This was a small enouh problem that neither
King
Araphor
or King
Argeleb II
had bothered to appoint a
reeve
for the March. In
Cor Wilishar
, the largest Elvish community in Harvaneth , Men and
Hobbits
minded their manners ; troublemakers were brought before the glade gathering or its clan-lord
Halatir
, the local Siranna
chieftain
. His solution to most problems was confiscation of all wealth and permanent banishment.
References
Ad blocker interference detected!
Wikia is a free-to-use site that makes money from advertising. We have a modified experience for viewers using ad blockers

Wikia is not accessible if you've made further modifications. Remove the custom ad blocker rule(s) and the page will load as expected.