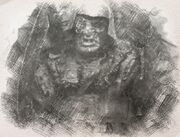 The
Orcs of Mordor
were not one pecular Tribe or people but were organised in a strict Caste system.Mordor Orcs were bred under strict control and individuals were separeated for certain characteristics.
Breeds
Tribes and confederations
The Mordor Orcs in the LotR SBG
Movie Trilogy
In the Movies the Orcs of Mordor are among the most diverse Orcish factions.They seem to belong to many different specialized breeds ranging from smaller workers or Snagas to smaller Scouts and broad-nosed Trackers to squat and muscular Fighting-Orcs, somewhat taller Hobgoblins and larger and better armed Morannon-Orcs to Black Uruks of Mordor, apparently belonging to the same breed as the Isengard Uruk-Hai though with a somewhat different skin-tone and equipment.
Ad blocker interference detected!
Wikia is a free-to-use site that makes money from advertising. We have a modified experience for viewers using ad blockers

Wikia is not accessible if you've made further modifications. Remove the custom ad blocker rule(s) and the page will load as expected.