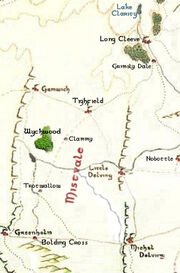 Mistvale
(S. "Hithimlad", Os. "Mîdimbladin") was the valley between the
White-
and
Far Downs
of
the Shire
. Here was situated
Bolding Cross
,
Tying Field
and
lake Clarity
. In the and early
Third Ages
,
Siranwaith
resided here, and their protective enchantments lingered.
Hunters
from the
Westfarthing
seldom crossed over the
White Downs
into this valley . It seemed , if such a thing was possible , too green and healthy . Those who had camped here had lost friends or themselves , it was said . Mist filled the vale more often then might be expected for the climate , and in these mists walked things beyond mannish understanding. The understanding of the
Elves
, not often shared with
mortals
, was that this pleasant valley , guarded by chalk ridges and tumbled fells on all sides , was a last gathering place for
Faerie-folk
of the natural world , the
Feamarhîn
or "Spirit-dwellers in Mist. " In this term's original usage , the mists in question were not those that shrouded the valley of times even in dry weather . Rather , they described the mists of time that confuses all memories of the most ancient of days , before the nature of
Arda
came to be fixed by the coming of the
Sun
and the
children of Eru
. The Dwellers in Mist were more ancient than the cycles of light and life of hunter and hunted, that ruled the
Middle-earth
of Elves and
Men
. They practiced a oneness with the natural world that made them alien to the thoughts and feelings of the
Free Peoples
. The
Old Forest
and
Cape Vorn
were similar refuges—in their way , so were
Lindon
and
Lorien
—but the age-old malice of the
awakened Treess
dominated the darkened forests . The creatures of Mistvale , by and large , did not
hate mortals ; rather , they failed to understand their weaknesses .
References
MERP:the Shire
Jeff J. Erwin:A Traveler's Guide to Lindon