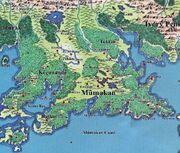 The
Mûmakan
(Mu."Land of the Mûmakil") was a large, hilly land best known for it's myriad rivers and jungles. It was situated south of the
Ered Laranor
(Q. "Yellow Mountains") and north of the
Haragaer
, in southernmost Endor.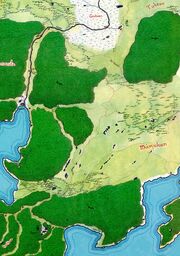 Regions
Bay of Koros Coast of Mûmakan Lakes of Kann-Sharmûnda
Places of Note
Amarû Aurax-Dûr Dûrdamal Engkîr Jessa Lond Hallacar Mirisgroth Pharabâs Tanith Tauronde Tirgoroth Tombs of Oran-Plaar
Inhabitants (of Greater Mûmakan)
Dwarves:
Elves:
Giants:
Men:
Orcs:
Trolls:
References
Ad blocker interference detected!
Wikia is a free-to-use site that makes money from advertising. We have a modified experience for viewers using ad blockers

Wikia is not accessible if you've made further modifications. Remove the custom ad blocker rule(s) and the page will load as expected.