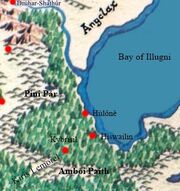 The forest of
Luindor
(Av."Lugnindôro"; "Blue Land") was the most pleasant place in the
Far North
. Thanks to the presence of the immortals, their care of nature, and the warming power of the
Book of Icelore
, Luindor enjoyed good weather and mild seasons if compared to the surrounding lands.
Sources
Gabriele Quaglia: "Luindor" Fan Module.
Ad blocker interference detected!
Wikia is a free-to-use site that makes money from advertising. We have a modified experience for viewers using ad blockers

Wikia is not accessible if you've made further modifications. Remove the custom ad blocker rule(s) and the page will load as expected.