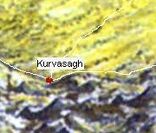 Kurvasagh (Od. 'Place of the Law'). This town was the main Odhriag (an Easterling tribe) settlement. In celebration of the end of Mordor's oppression of their´s at the end of the Second Age, their chieftain Khorgul had the tribal law carved into the sides of the mountains overlooking the town.
References
Fanmodules:MORDOR GAZETTEER
Ad blocker interference detected!
Wikia is a free-to-use site that makes money from advertising. We have a modified experience for viewers using ad blockers

Wikia is not accessible if you've made further modifications. Remove the custom ad blocker rule(s) and the page will load as expected.