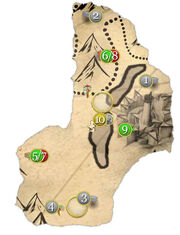 The city of
Minas Ithil
was located in this deep valley in
the Ephel Dúath.
Places of Note:
Cirith Ungol

Cleft of Cirith Ungol
The High Stair
Smeagol's Secret Way
The Spider's lair

The Hidden Cache
Minas Morgûl

Morgûl Gate
The White Bridge

Pools of Loom
The Rearguard
Ad blocker interference detected!
Wikia is a free-to-use site that makes money from advertising. We have a modified experience for viewers using ad blockers

Wikia is not accessible if you've made further modifications. Remove the custom ad blocker rule(s) and the page will load as expected.