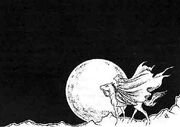 Horses
were very common in
Middle-Earth
, differend breeds were variously categorized as
Ponies
,
Small Horses
and
Great Horses
or
Light Horses
,
Medium Horses
and
Heavy Horses
.Horses were bred as working animals,pack animals and horses in warfare (as Light and heavy
war Horses
) some tribes of the
easterlings
and
Haradrim
also usually consumed the flesh of horses.The offspring of a Horse and a
Donkey
was called a
Mule
or
Hinny
(offspring of a male horse and a female donkey).Known horse races of
Middle-Earth
included:
Horses of Renown
Arod Arroch Asfaloth Bill Brego Bumpkin Bungo Daisy Felaróf Firefoot Hasufel Lightfoot Lumpkin Minty Myrtle Nahar Rochallor Rohald Roheryn Shadowfax Sharp-ears Snowmane Strider Stybba Swish-tail White-socks Windfola Wise-nose
Genealogy of Horses
Ad blocker interference detected!
Wikia is a free-to-use site that makes money from advertising. We have a modified experience for viewers using ad blockers

Wikia is not accessible if you've made further modifications. Remove the custom ad blocker rule(s) and the page will load as expected.