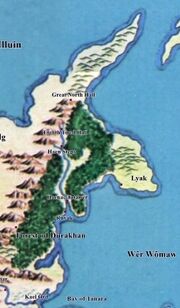 Situated along the northeastern flank of the
Orocarni
(Q. "Red Mountains").
Haen
(wm."Province") was a cold but temperate peninsula surrounded by the
Weer Womaw
(Wm. "Womaw Gulf").
Haenac Tataweer
served as the capital, but the
Hion
of
Haen
lived sixty-four miles to the north, at the
Eight Tiered Hall
above the watery
Haen Steps
. Established by the
Aokos
Clan-the most revered of Haen's original families-the hall was a major center of
Wômarin
-based scholarship.
Settlemnts and Points of Interest
Eight Tiered Hall Haen Steps Haenac Tataweer Lyak
Literature
the Wild Lands south and East, Gazetteer by Pete Fenlon
Ad blocker interference detected!
Wikia is a free-to-use site that makes money from advertising. We have a modified experience for viewers using ad blockers

Wikia is not accessible if you've made further modifications. Remove the custom ad blocker rule(s) and the page will load as expected.