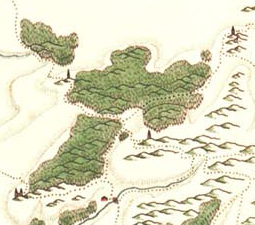 An enormous, gnarled beech that grew from a rocky outcrop
deep in the Taur Faemar was the home of Feaneldor, a kind-hearted Woodland-Spirit.Feaneldor's beech would open at his command to reveal (rarely to guests) an interior larger than its exterior. Three small rooms and a selection of books, food, and other comforts pilfered over the centuries fitted neady within the tree's bole. Broken by dreamy interludes within the beech, Feaneldor wandered the forest, singing, visiting other trees of which he was fond, and occasionally harassing magically woodcutters or trappers, if they were being wasteful or destructive o fthe woodland's bounty.
References
Ad blocker interference detected!
Wikia is a free-to-use site that makes money from advertising. We have a modified experience for viewers using ad blockers

Wikia is not accessible if you've made further modifications. Remove the custom ad blocker rule(s) and the page will load as expected.