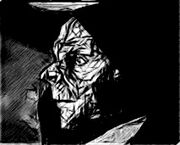 Euog
, also known as
Ulzog
, was one of two
half-orcs
sent as messengers to
Bree
by
Saruman
the white.
It was Euog who stole the Hobbits ponies while his friend Doeth was the ill-favored fellow who was Bill Ferny´s companion \.
Outer History
In Welsh Euog means guilty.
Sources
Middle-Earth collectible card game, the white Hand
Ad blocker interference detected!
Wikia is a free-to-use site that makes money from advertising. We have a modified experience for viewers using ad blockers

Wikia is not accessible if you've made further modifications. Remove the custom ad blocker rule(s) and the page will load as expected.