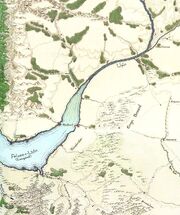 Eastern Lindon
describes the lands east of the
Gulf of Lhûn
which are formally part of the reign of Lindon including
Dor Lelvin
, the
Emyn Beraid
,
Lond-in-Telerrim
and
Mithlond
comments
Suggested names for this region include "Rónalindon" (ICE MERP), "Rhonlindon" (Jeff J. Erwin, Lindon Module Manuscript), and "Rhûlindon" (Gabriele Quaglia).
sources
Ad blocker interference detected!
Wikia is a free-to-use site that makes money from advertising. We have a modified experience for viewers using ad blockers

Wikia is not accessible if you've made further modifications. Remove the custom ad blocker rule(s) and the page will load as expected.