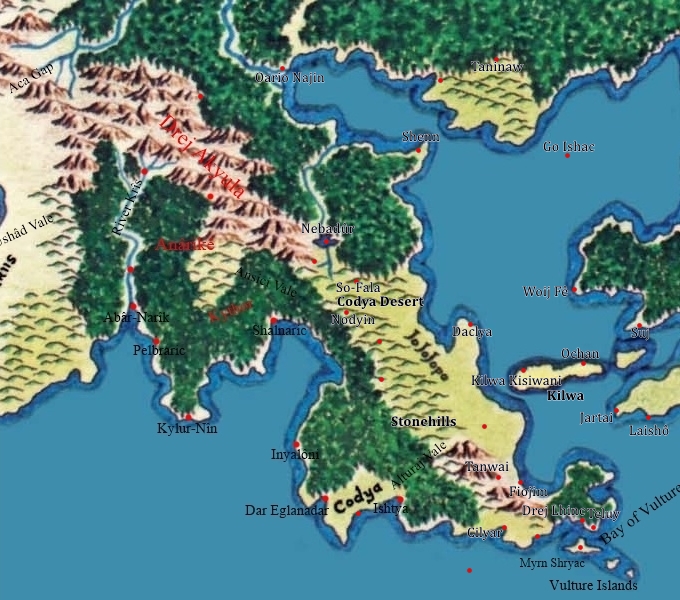 Originally founded as a
Vulmaw
colony,
Codya
was the youngest and westernmost of the
Wômaw
-related domains. It was positioned north of the mouth of the
Bay of Ormal
, near the southeastern tip of the
Ered Harmal
. A hilly, wooded land, it shared the
Jopî peninsula
with
Jojojopo
, which lay to the east (across the
Jopî Kneel
).
Places of Note
Achaj Aishan Dadya Cilyar Cudaw Drej Uriac Eshayl Fiojin Gi Laliac Go Ishac Hinchyan Hi Kadar an-Urud Hirsh Pûl Ishtya Jartaj Laishô Lo Canza Yuan Low Pazac Mokaw Myrn Shryac Najin Oario Najin Ochan Shenn Siuju So Fala Suj Sulyann Tanwai Thawan Napai Teluj Tofai Tsninaw Wern Draic Woj Fê
Regions
Ach Alturaj Bay of Vultures Coast Road Codya Desert Darjo Naijin Dream Islands Drej Akyula Hij Hundred Islands Jelh Jopî Kneel Lôc Raw Myrn Shriac Nualji Stone Hills Tem Dazram Treddas Mountains Vulture's Islands Wum Raf Yai Tayin Zadyac
Literature
the Wild Lands south and East, Gazetteer by Pete Fenlon
Ad blocker interference detected!
Wikia is a free-to-use site that makes money from advertising. We have a modified experience for viewers using ad blockers

Wikia is not accessible if you've made further modifications. Remove the custom ad blocker rule(s) and the page will load as expected.