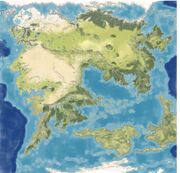 Wild lands
is the category for the wild and tribal Lands East and South.
Wild and legendary Lands mentioned in the Legendarium
Abyss Aerie Almain Almaren Ambaróna Ambarónë Amrûn Ancient Darkness Andesalke Astolat Avakúma Belmarie Black Mountains Burnt Land of the Sun Cinderion Circles of the World Cursed Isles Dark forests of the south Dark Lands Dark Pools Dark Regions Dark Waters Dark Woods Derrilyn Dome of Night Door of Night Dor-Winion Dorwinion Dwellings in the Void East of East Eastern Deserts Eastern Land Easternesse Elvet Isle Empty Space Enchanted Isles Endon Eneadur Evereven Everlasting Dark Faerie Fantasie Far Sunlands Fire Mountains Firmament Forests of the South Great Desert Great Northern Woods Great Shadows Greenlands Grey Mountains of Harad Harbourless Isles Heart of Eä Helcar Hildorien Hills of Faraway Icelands Icy Seas Illuin Iron Forest Islands of the South Isle of Iverin Isle of the Old Man Isle of Seabirds Isle of Ungolianth Islets Forlorn Kalormë Land of the Sun Last Desert Little Isles Lost Westerfalm Magic Isles Marsh of Tode Meadow-Lands Menel Merlock Mountains Mountains of the Moon Murmenalda Nemorie Néni Erumeär New Lands Northern Waters Ormal Orocarni Oronto Ossory Outer Dark Outer Lands Palisor Red Sea Remote Regions Rotting River Sad Isle Salkinóre shadowy isles Shining Isles Sindanórie Southern Darkness Southern Forests Southernesse Thellamie Timeless Void Tol Meneltarma Tol Thúle Tol Uinen Tolli Kimpeleär Tolli Kuruvar Turqeler Tramorie twilight lands Twilit isles Uttermost East Utumno Voids of Eä Walien Wall of the Sun Walls of the Night Western Isles Wild Isles Wind Mountains Wild woods Wood of hanging Trees Yellow Mountains
Lands mentioned in the MERP books
Adea Hu Aegan Aigvalg Alduryaknar Amirakh Angclax Araden Ardor Arg-Sîmorîg Arth Avikangsdar Bozisha-Miraz Brôd Bulchyades Burskadekdar Cevra Chennacatt Chey Sart Chy Chyan lands Címóníemor Ciryatandor Clyan Codya Cuivac Wômaw Cuivienen Daldunair Dalpygis Desdursyton Dînsûlinor Dir Drel Durmaw Dûshera Dyr Eligmar Elorna E-Sorul Sare Faelaan Fëamardi Fenfenen Gaathgykarkan Gan Geen Geshaan Góak Gosti Hyr Haen Harshandatt Hathor Heb Aaraan Helcar Sael Helcarth Helkanen Hent Horl Hôrm Hyarn Ibav Irakh-Chain Isle of Sunrises Iskahú Isra Jendiar Jojojopo Kael Ka'ish Kankanan Kargagis Ahar Karn Ord Kendarca Kirakh-Chain Kirm Lesra Koronande Kosth Leer Kubor sed Kykurian Kyn Langurian Kyn Llikh Lôchas Lôchas Drûs Lódenûly Lotan Lú Tyr Sû Luindor Luinemar Lurs Vorganis Lygar Kraw Mag Mardruak Menars Metharn Mîrëdor Mithrisars Móak Mulambur Mûmakan Mur Fostisyr Mur Fustir Myr Nômirakh Nûrad Ogladalo Vatra Olyas Kriis Ôm Orgothraath Pel Proric-Peninsula Prorse Raj Ralian Relmether Rôlfandas Ruartar Ruuriik Rycolis Seven lands Sharthax Shay Sîrayn Suza Sumar Taaliraan Tâna Tantûrak Tarsa Thontaur Thuriac Codya Tuktan Tulwang Tumag Uab Uax Ubain Uiven Unvirnay Urd Urtlagga Ûsakan Uul Vaag Valagalen V'shrang Vulm Shryac Wâl Waw Wôl Wôm Shryac Wômawas Drûs Yalf Hurm Y-Lústurangsur Zipatoa
Lands mentioned on Incanus Ennorath Homepage
Amazôn Amrûnen Arthanor Balizar Barmirian Falas Morlith Great Desert Ivory Coast Lithaer Mistwoods Nikkea Ormal Kharg Pharazain southern rainforests Taur Luin Taur Moredain Uruthani The Wildwoods
Lands mentioned in other sources
Amrûn Angharad Bâl Baód Black Harad Beor Cathay Cracks of Illuin Dungel Eastern Gardens Elanil Emer Fahal Gorem Iron Forest Kei-Urdhasa Khrim kanan Kinn-Sâlâ Kôm Krinan Land of Spice Lands of the Dawn Last Desert Meddahar Mélathîr Ôn Orbis Saka Savari Savax Slave Coast Thousand Cities Uiam Uiól Ulshy Unâv Verya Yâquîr

The wild Lands east and south include: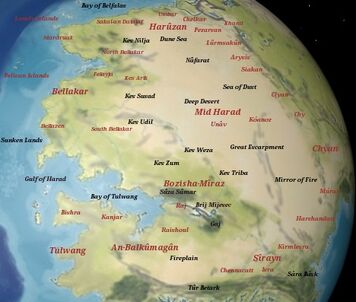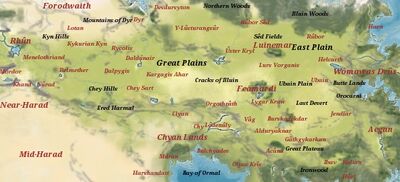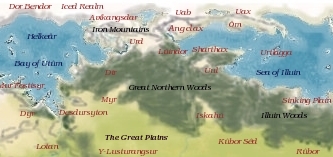 Subcategories
This category has the following 7 subcategories, out of 7 total.
Pages in category "Wild lands"
The following 91 pages are in this category, out of 91 total.
A

B

C

D

E

F

G

H

H cont.

I

J

K

L

M

N

O

P

R

S

T

U

V

W

Y

Ô

Û