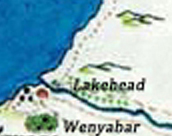 Calembar (S."Green Home") was an Arthadan fief and castle, a small keep about three miles south of the ruined city of Annuminas overlooking Dol Caras.on the eastern shore of Lake Evendim .The Lord of Calembar , had responsibility for both protecting the ruins from treasure-hunters and maintaining the bridge over the Brandywine at the village of Lakehead .
Lords
Notes
Original form:Wenyabar
References
MERP:the Shire
MERP:Arnor
Ad blocker interference detected!
Wikia is a free-to-use site that makes money from advertising. We have a modified experience for viewers using ad blockers

Wikia is not accessible if you've made further modifications. Remove the custom ad blocker rule(s) and the page will load as expected.