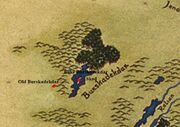 An upland area noted for its hills and named for its hundred mile long lake, Burskadekdar was home to nearly a quarter million Adek-speaking people. Its ancient and diverse traditions lend it remarkable strength a stability. Burskadek traders, fishermen, planters, and herders formed the most resilient of eastern Endor's myriad plains culture. Its well-armed warriors enjoyed an unparalleled record of martial success.
The city of Skad was the largest city in the region. Situated on an island in the midst of Lake Burskadekdar, it was renowned for its twenty-five stone causeways. These wide bridges connected the walled town to an outer ringway, which was in turn joined to the mainland by five, fifteen mile long, elevated roads. The five highways crossed an array of both floating- and fixed-span bridges. While the majority of the city's population lived in the walled core, over a third of the local residents resided in small hamlets along the ringway or major causeways.
Although much smaller than Skad, the old town of Burskadekdar remained an important ceremonial site. It was located in the hills of southwestern Burskadekdar. Like its name, the town's gold, ring-shaped emblem served the entire region. It was the symbol of Burskadek unity, and adorned the pure black field of their twin-tailed flag.
Inhabitants
Hildor:
Places of Renown
Drûin's Delving
Hills of Burskadekdar
Literature
the Wild Lands south and East, Gazetteer by Pete Fenlon
Ad blocker interference detected!
Wikia is a free-to-use site that makes money from advertising. We have a modified experience for viewers using ad blockers

Wikia is not accessible if you've made further modifications. Remove the custom ad blocker rule(s) and the page will load as expected.