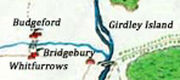 Whitfurrows
(Originally known as "Bankling") was a good-sized town set squarely in the midst of the best farmland in the
Eastfarthing
along the
Great East Road
.East from Whitfurrows, on either side of the Water, lay the level ground of the
Bridgefields
.South lay the lowland of the
Yale
, to the west the slightly more rolling country of the
Water-vale
. The
Scary Pike
traversed the
water
just north of Whitfurrows.Heavy
wagons
crossed the river at
Budge Ford
, created by years of dumping quarry tailings in the river.A fine wooden bridge just downstream took lighter
carts
and foot and
pony
traffic across to
Waterbury
on the north bank.Along with producing corn and flax, Whitfurrows was the meeting place for the
Brow, Pen and Scroll Society
, a collection of bibliophiles competitive with the
Norwester Club
in
Tighfield
and the
Axbridge Alliance
in the
Southfarthing
.The members,
gentry
and
tradesmen
who live throughout the Bridgefields and the Yale, met with some regularity at the
Blushing Ivy
Tavern in Whitfurrows.This meeting place gave the Society its nickname, "
The Ivies
" Members of the Ivies were required to learn "the
High Elven
Tongue
",
Sindarin
, and to perform goodly work for the illiterate of the Shire.These customs did some good for the common
Hobbits
, but also gave the Ivies' well-off membership a reputation for queerness and snobbery.Regardless of their peculiaritis, the Ivies were the best source of
Elvish
lore
in
the Shire
.During the reign of
Lotho Sackville-Baggins
and
Sharkey
, several of them led a resistance band in the
Green Hills
to keep the
ruffians
from troubling the Elves known to wander through the area .
Bankling in TA 1640
Bankling was a village on the southern side of a stone bridge over the Fairwater opposite to Waterbury, providing access to the Great East Road for the miners of the Hills of Scary. Bankling dated back to the days of Elendil the Tall. A crumbling, low-built keep away from the river had once been the home of an Arthadan knight. Up until TA 1625 an Arthadan reeve had dwelt here , but the Lord Protector dissolved the position after the Dark Plague and granted its supporting lands to the Shire Moot.Further Hobbit settlement in the area had left Bankling isolated.As Waterbury had outgrown it Bankling cooperated fully with the Shire Moot , since its inhabitants saw no other option.
Inhabitants
ca. TA 1640
Ca. TA 3018/19
Daisy Boffin Griselda Boffin Gruffo Boffin Tosto Boffin
References
MERP:the Shire
Foster, Robert. The Complete Guide to Middle-earth.